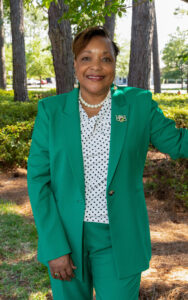 Welcome to the Brunswick (GA) Chapter of The Links, Incorporated's website.
My name is Jacqueline (Jackie) W. Bryant, and I am the President of our wonderful chapter. I am pleased to welcome everyone as we re-launch our website.
Our chapter is built on the tenets of friendship and service and has been in existence for fifty-five years.
This year we will Celebrate Emerald Excellence: Esteemed Past, Exceptional Present, and Exciting Future!
It is our goal that as you visit our website, you will familiarize yourself with the myriad of events and activities that we facilitate within our communities.
The Brunswick (GA) chapter serves Camden, Glynn, and McIntosh counties, and is comprised of thirty-one professional and dynamic women who are leaders, role models, activists, and mentors. We work collectively toward a shared vision by engaging like-minded organizations and individuals for partnerships.
We love collaborating and working with others in our communities to achieve a common mission – enhancing and improving the communities in which we live and serve!
So, enjoy your visit, tell a friend, and please return often.
Jacqueline W. Bryant